Profile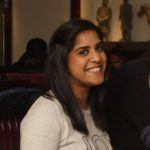 Ananthi Ramachandran
PhD student final year...and job hunting!
Curriculum Vitae
Education

University of Leicester 2013-present. University of Leicester 2006-2009. Milton Keynes College 2004-2006. Aylesbury High School 1998-2002

Qualifications

BSc in Biological Sciences (Microbiology), Working towards my PhD

Work History

MSD Animal Health 2009-2013. A company that makes veterinary medication for both domestic pets (cats and dogs) and farm animals. John Lewis. BHS

Current Job

PhD student at University of Leicester

Employer
Favourite thing to do in my job: Growing nasty disease causing bugs in the lab so I can find a good way to kill them (with the aim to treat some infections)

About Me: I'm a fourth year PhD student studying microbiology (I study the tiny things that make you sick) at Leicester university. When I am not in the lab I love spending time with my family and friends, binge watching TV shows and reading.

Read more

So….here's more about me, as I've mentioned before I'm in my 4th year of doing a PhD.  In case you haven't come across this before, in a PhD you study a section of a novel piece of research- this means that it is quite likely that you are either the only person, or one of very few people who are studying this particular bit of research in the whole wide world.  You are given three years to finish the practical work, so those are the times where you wear the nice white coat and work in the lab, and then you have up to a year to write up your work in a giant book called a thesis-that's the stage I'm at now..  Some of these can be up to 50,000 words long.  As you can imagine these days I am spending a fair amount of time at the computer but when I'm not you will most likely find me dancing around in my zumba class, or with my family and friends in the cinema or eating yummy food somewhere, relaxing with a book or watching anything from wildlife documentaries to reality "trash tv" and everything in between.  I also love travelling but due to PhD life I haven't done much of this recently.

My Work: Antibiotic resistance is becoming more and more common, (the medicines aren't working effectively any more as the bacteria are getting stronger), my work looks at an alternative treatment that could replace antibiotics in the future.

Read more

I work with a nasty bug (bacteria) called C. difficile.  It's nasty because it takes advantage of people who are already sick in hospital or those who are a bit more fragile, like the elderly.  It causes horrible tummy infections with the main symptom being severe diarrhoea which no one wants do they?!  This bacteria is becoming stronger and stronger and is able to survive and keep growing even after a patient is given antibiotics. Other options are being looked at to replace the antibiotics.  One of these replacements are little viruses that I work with called bacteriophages (we call them phages).  These are viruses that attack the bacteria.  Think of the cold or flu viruses that make us feel poorly….these are viruses that infect humans.  Similarly phages infect only bacteria and so the idea is, if we have phages as a medicine it will kill the bacteria making us ill and make us feel better.

All research in developing medicine or future treatments have to pass lots of tests in the lab first before it can be tested on humans.  For my PhD project, I have had to develop a way of looking at how the C. difficile bacteria and phages interact with each other when they are added to cells from the large intestine.  This is because we want to try and make a realistic copy of what would happen in an infection without using humans as we are not allowed to do this yet.

My Typical Day: Head to uni, do some science, eat lunch and then science some more

Read more

My typical day completely depends on what experiments I am doing.  At the beginning of my PhD some of my experiments were 12-14 hours so those days would be super long and involve the eating of a lot of chocolate (for energy of course).  More recently my days are a bit more of a "normal length" 9-5 ish. At the moment I am doing what scientists like to call "optimisation", this is a long word which simply means trial and error until the experiment works.  I also have to do a lot of reading to keep up to date with the latest research so I try and do that if I get a spare moment in the day.

What I'd do with the prize money: Either promote Microbiology as a subject/career in schools and fund talks and visits to universities OR increase awareness of antibiotic resistance

Read more

I don't think students in schools are being given enough information about microbiology and the huge variety of research in this subject that is being done in UK let alone the world.  If I was lucky enough to win "I'm a Scientist" I would like to form links between schools and universities so either someone from a university can visit a school to give an inspiring talk and demonstrate some cool experiments or the students can visit a real life working lab within a university and speak to all the scientists and find out what they are doing.

Another idea of mine is to use the opportunity to increase awareness of antibiotic resistance, either via interactive workshops or through a roadshow or something similar especially as it is such an important topic at the moment and is featured heavily in the news these days.

My Interview

How would you describe yourself in 3 words?

Optimistic, Friendly, Happy

What or who inspired you to follow your career?

I've always been fascinated by medicine and curing diseases, my family encouraged me to pursue this direction and by a lucky accident I fell into microbiology.

What was your favourite subject at school?

Biology and music.

What did you want to be after you left school?

I had no specific job in mind, but I knew I wanted to either be in the medical or biological field.

Were you ever in trouble at school?

Me? Trouble? Never? :p Honestly....I was never naughty, but I was (and still am) a bit of a chatterbox

If you weren't doing this job, what would you choose instead?

I'd love to work on a wildlife documentary, so perhaps a TV presenter, like David Attenborough, but without the legend status.

Who is your favourite singer or band?

Any happy music! Plus I'm the first to learn a dance routine! But if I had to pick...Bruno Mars! Ed Sheeran! Justin Timberlake! And any boyband from the 90s!

What's your favourite food?

Please don't make me choose! I lurve most food, especially Sri Lankan food, pom bears and lindt chocolate! I really don't like mushrooms!

What is the most fun thing you've done?

I have done a lot of fun things but my favourite has to be going to Kenya on safari

If you had 3 wishes for yourself what would they be? - be honest!

Be happy, be healthy and to get a puppy!

Tell us a joke.

Did you hear about the Vicks Vapour Rub lorry that overturned on the motorway? There was no congestion for 8 hours.
---
---
---